Faculty
Collaborative faculty
They endorse the role of our department and can be trusted as researchers and mentors. We will work together on equal footing.

Postdoctoral fellow
Graduate student・Graduate research student
The principal supervisor, Noriaki Kurita, provides mentoring for graduate students in the department of clinical epidemiology. Dr. Takeshima, one of the collaborating faculty members, sometimes supervises the graduate students. If you wish to seek supervision, a decision will be made based on an interview prior to admission.
※1 A graduate student, Dr. Fumihito Ito, presented the results of a cohort study that examined the relationship between the shape of a minicar and the body-specific severity of traffic trauma at The 46th Annual Meeting of the Japanese Association for Acute Medicine (in Yokohama). His presentation was introduced in Nikkei Medical. [The shape of the car's "nose" makes a difference in the body-specific severity of traffic trauma] In addition, it was also featured in the Yomiuri Shimbun. [The shape of the vehicle affects the degree of injury. Yomiuri Shimbun, Fukushima Edition. Daily, January 14, 2019, page 23.]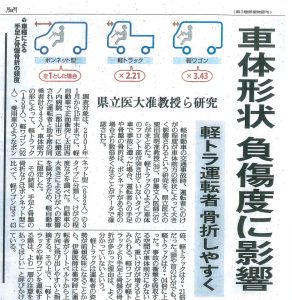 ※2 A research result of the relationship between blood pressure and salt intake and body weight in elderly people aged 75 or over, which was shown by a graduate research student Dr. Hidekazu Iida in collaboration with OB and current staffs of CiRC2LE, was featured in Fukushima Minpo.
[Hypertension in the elderly aged 75 or over: Salt intake and body weight are related. Fukushima Minpo. Daily, July 11, 2019, page 25]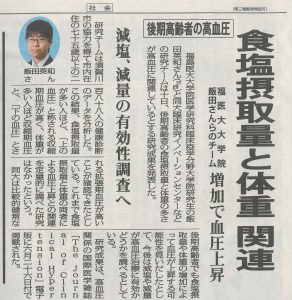 Alumni